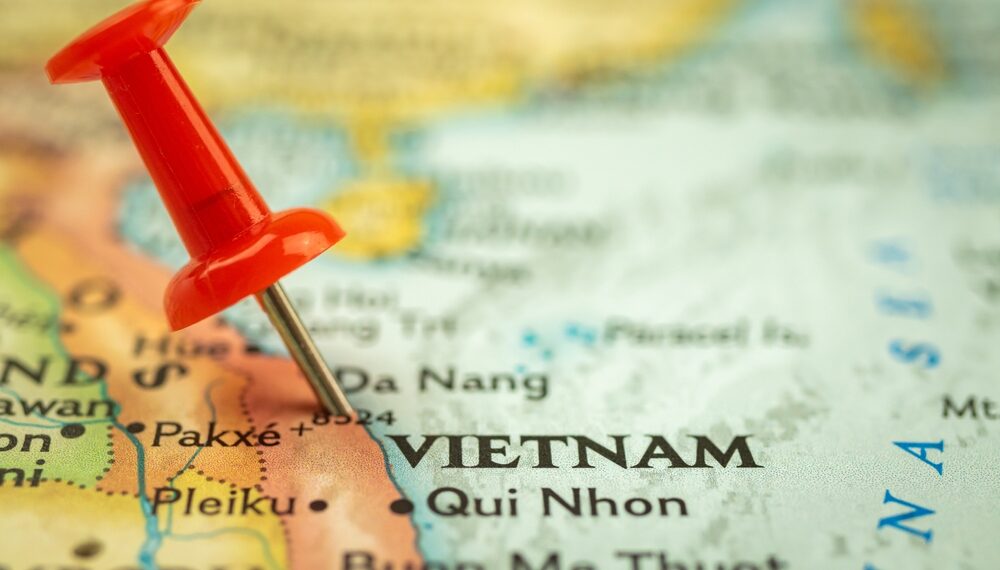 Summary
Over successive years, Vietnam has topped, and is currently placed third, in Chainalysis' global crypto adoption index, underscoring its rapid adoption in one of South-East Asia's most dynamic lower-middle income economies.
The reasons for this take-up are not those typically associated with developing economies, with a greater focus on financial access, a historic interest in assets other than the fiat currency, and gaming rewards.
As the situation stands, there is no legislation governing crypto, but the government is taking a greater interest in cryptocurrencies, and the situation is expected to change.
Crypto adoption
How is crypto used in Vietnam?
Vietnamese use crypto to access banking services, which would otherwise be inaccessible. They invest and speculate using crypto, and also use crypto to transfer remittances.
Approximately 17% of the population own or have used cryptocurrencies. Vietnamese typically use Bitcoin, although analysis shows that they spread the risk by holding at least two cryptocurrencies at any one time. The most likely age group to hold cryptocurrencies is the 25-34 year-old group.
In terms of crypto activities, a survey revealed that of its respondents, almost 90% engaged in decentralized finance (DeFi) activities, 70.2% in GameFi, 73.7% in nonfungible tokens (NFTs), 91% for centralized finance and 54.9% for SocialFi.
The revenue generated by crypto exchanges within the Vietnamese market is anticipated to hit $109.4 million for 2023.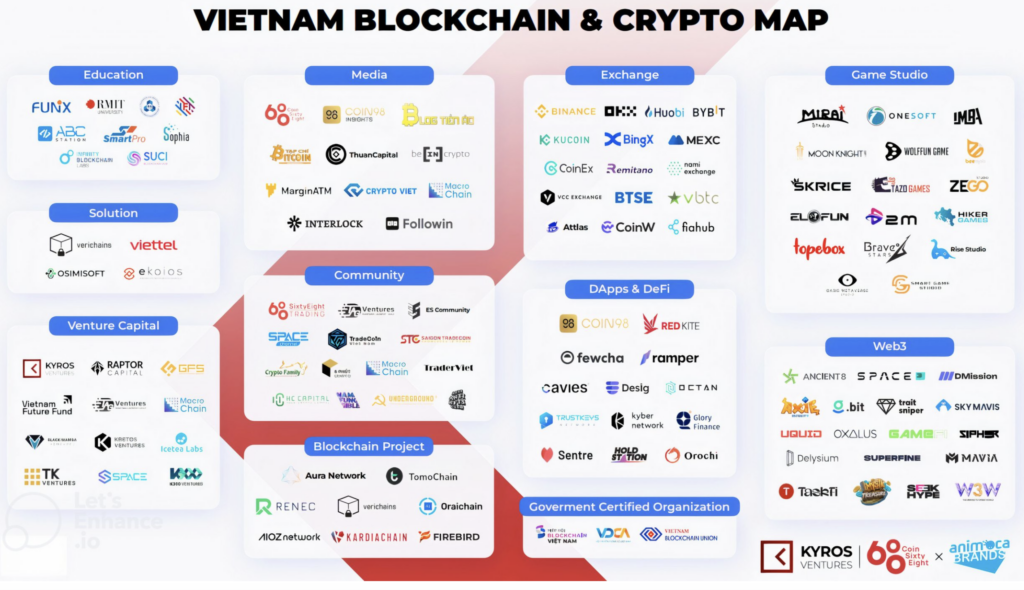 Image credit: Kyros Venutres, Coin68, and Animoca Brands
What is crypto's appeal in Vietnam?
To some degree, Vietnam bucks the trend of lower-middle income nations when it comes to the reasons why such large numbers of its citizens use crypto. Certainly, issues like a fluctuating currency and inflation play their part, with Vietnamese looking to protect their assets from devaluation, but there are other significant factors at play.
The first big draw for Vietnamese is the fact that crypto holdings are untaxed. Financial institutions are barred from handling them, but no such legislation covers citizens. The authorities currently have no formal position on crypto; they don't regulate the sector, which makes access free and easy, but where problems arise, there is no recourse to law or support. There are signs that the situation will change, and the nation's financial regulatory agencies are in the process of drawing up guidelines.
Second, historically, the Vietnamese have had little faith in the fiat currency, the dong. As a result, many have held US dollars or assets like gold, in an attempt to hedge against currency problems. Cryptocurrencies are the modern equivalent to this. They are easy to use and available to anyone with an internet connection or smartphone.
This leads to the third point, accessibility. Vietnam has a large, unbanked population with almost 70% of Vietnamese lacking access to financial services. As a result, this has made crypto attractive. DeFi usage is among the world's highest in Vietnam and it is striking that many people use their crypto assets as banking services.
Fourth, remittances are another important reason for crypto's success in Vietnam. In 2022, total remittances to the country rose to approximately $19 billion. This puts the country in the top 10 globally as well as being one of the three largest recipients of remittances in the Asia-Pacific.
The cost of sending remittances using traditional money transfer means to Vietnam is, according to the World Bank, approximately 7%, but with cryptocurrency, the amount is far lower, and with peer-to-peer networks (popular in Vietnam), there is no middleman or exchange to deal with.
Finally, another unusual facet of Vietnam's crypto uptake is play-to-earn gaming or GameFi. Players are rewarded with NFTs or cryptocurrency for playing. Giving a boost to the sector was the early success of Vietnamese gaming company, Axie Infinity, which became incredibly popular throughout the region until March 2022 when North Korean hackers stole $625 million of its assets. Up to that point, some of the more successful players were using their gaming profits to pay school tuition fees, buy land and even houses. A Chainplay survey of GameFi revealed that 75% of GameFi crypto investors said they started investing in digital currencies after joining these sorts of platforms.
Crypto regulation
What has been the government's reaction to crypto?
The government has become increasingly interested in studying crypto, but has yet to introduce specific regulation. That said, there are signs that the situation is shifting; the Anti-Money Laundering (AML), passed in 2022 and coming into effect in 2023, requires organizations providing payment services – such as digital wallet services – to implement know-your-customer (KYC) measures.
More recently, in July 2023, Vietnam's Planning and Development Institute reviewed eight possibly applicable existing laws and codes revealing that there is no clear definition or classification of crypto assets. As a result, the institute proposed a legal framework, which includes a detailed definition of digital assets appropriate to the country's situation.
Among its other proposals were that: cryptocurrencies be recognized as a new type of asset with prerequisites for circulation; policymakers consider taxing transactions related to digital assets; and improve technology park models specializing in blockchain research, development, application and testing.
In between these dates, there has been other activity, including:
In May 2020, Prime Minister Phạm Minh Chính called on the State Bank of Vietnam (SBV), the central bank, to begin working on a blockchain-based pilot cryptocurrency project.

In January 2021, the authorities formed the Vietnam's Department of Cybersecurity and High-Tech Crime Prevention.
In July of the same year, the prime minister called on the central bank to explore the benefits and disadvantages of digital currencies. The bank is expected to produce a number of measures, including tax and user protection guidelines, but no date has been set for this.
Underscoring a cross-departmental effort, the home affairs ministry launched the Vietnam Blockchain Association in March 2022. This marked the first crypto-based legal entity in the country and has a mandate to build a framework for the sector's development along with a stakeholder network.
Activity picked up towards the end of 2022. October saw the prime minister call for cryptocurrencies to be regulated, and a month later, the issue, along with crypto assets and money laundering, was debated in the National Assembly. Calls were made for existing legislation to be amended to cover virtual assets.
In March 2023, measures to counter money laundering were introduced, but omitted peer-to-peer lending and virtual asset service providers. Although as stated, KYC measures were added.
Developments within the Vietnamese crypto space
In a sign that Vietnam's market is maturing, 75% respondents in the Vietnam Cryptocurrency Market Report said that they would welcome crypto regulation. More than 90% of the country's investors had been engaged in crypto for more than a year, underlining how seasoned investors are helping to develop the domestic sector.
As small regulatory shifts highlight, the government is taking an increased interest in the sector, and clearly sees its potential. Beyond this, it's difficult to get a sense of tangible examples of the government examining user behaviour and cases.
This isn't stopping Vietnam's presence in the sector from developing. At Money 20/20 Asia, which takes place in the Thai capital, Bangkok, in April 2024, Anthony Thomas, Chairman of MoMo, Vietnam's largest mobile wallet, will be a speaker.
Vietnam, largely thanks to the regional popularity of the homegrown game, Axie Infinity, is coming to be regarded as a gaming developer. Complementing this, software development is a burgeoning business in Vietnam. Thanks to sound education provision, Vietnam is producing a good cadre of software developers. Reflecting this, a typically robust work ethic and the country's lower costs, increasing numbers of software development houses are setting up operations in the country.
Outlook for crypto use in Vietnam
Figures suggest that the sector's global problems in 2022 undermined local confidence, and this is borne out in the lower number of new entrants to the sector, but the country's crypto market in the first half of 2023 showed the continued resilience of stablecoins. Centralized exchanges have also proven popular as a safe and convenient place to store digital assets.
Regulating crypto has its pros and cons. In the short term, it's likely to undermine local fiat exchange trading, but could boost wider adoption, particularly increased retail and institutional engagement.
It would provide an opportunity for the government to increase revenue through the taxation from cryptocurrency trading. If it defined trading platforms as exchanges of foreign currencies or financial assets, it is possible they would fall under the scope of personal or corporate income tax.
Better regulation would provide a safer environment for consumers, help to counter fraud and abuses like anonymous financing of illicit activities, money laundering and hacks, and ultimately protect the national economy from associated risks.
The best type of regulation offers a protective framework while allowing the sector to flourish. Reflecting this, Vietnam's policy-makers should consider incentives for the creation of safer more trustworthy exchanges, while throughout the sector, there must be greater transparency, legal recourse and predictability.