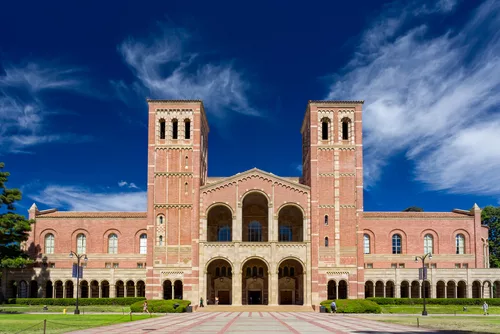 Summary
Of the 10 schools that make up the University of California system, four are making a name for themselves in the blockchain and crypto world.
Diversity of courses and research opportunities, along with active student communities, mark out the Cal State system's crypto offerings.
University California-Berkeley (UC-Berkeley) is viewed as a top school for crypto nationwide, with programs emerging from its strengths in STEM and engineering.
Los Angeles has grown into a hub for the crypto sector, and is home to the likes of Block, Gemini and ConsenSys, as well as growing crypto student talent. But what courses and research opportunities are available and who are schools partnering with?
UC-Berkeley tops the bill with integrated research for Blockchain and Crypto
UC-Berkeley, which in CoinDesk's 2022 blockchain university listings ranked fourth globally, has developed an impressive offering and has an active student faculty. For CoinDesk, however, what really makes the institution stand out is the fact it directly integrates its research with the industry.
This is exemplified in the relationship it has carved out with payments company, Ripple. In a five-year deal, Ripple is funding research through the Berkeley Haas Blockchain Initiative. Its focus is on researching the application of blockchain technology and it is "designed to advance research, student engagement, technical development and innovation in blockchain, cryptocurrency and digital payments." The initiative seeks to engage a range of talent working throughout the university.
UC-Berkeley runs courses at both undergraduate and graduate level, from the basic, like Blockchain Fundamentals, to the specific, including Lattices: Algorithms, Complexity and Cryptography, and at MBA level, Blockchain for Enterprise.
There's also an executive education program (Berkeley ExecEd), aimed at "progressive leaders in both the public and private sectors," which teaches courses like Blockchain and Cryptocurrencies: Technologies, Strategic Applications, And Emerging Trends.
The course focuses on securing an understanding of the technologies, exploring current sectoral developments, applying frameworks to identify opportunities, and building strategies leveraging the technology to address challenges in the student's organization or industry.
Blockchain at Berkeley (B@B), founded in 2016, is a student-led organization, which developed the world's first undergraduate university-accredited blockchain course. This hub has developed to the point where it has education, governance and research teams, and offers consultancy services.
Also featuring in CoinDesk's top 50 rankings are the University of Southern California (at 43) and the University of California-Los Angeles (47).
Crypto Bootcamps prove popular at Caltech
Missing from the rankings, but still active in the space is the California Institute of Technology (Caltech). Caltech has a reputation for being innovative, and its science and engineering programs are regarded as some of the best in the world.
In terms of crypto, its Center for Technology and Management Education (CTME) runs the Caltech Blockchain Bootcamp. Designed for working professionals, the bootcamp offers a "mix of theory and extensive hands-on practice" to help students master blockchain concepts and tools.
The CTME also offers a Cyber Bootcamp, which seeks to prepare technical professionals to combat cybersecurity threats. Partnered with the Los Angeles Cyber Lab, course content aligns with NIST frameworks and the DHS Cybersecurity and Infrastructure Security Agency's education initiatives.
Cross-cutting crypto offerings at UCLA
The University of California – Los Angeles (UCLA) hit the headlines in 2021, when the university's basketball star, Jaylen Clark, announced he would become the first college athlete to launch a cryptocurrency.
The institution's pedigree stretches far wider than this and UCLA is notable for the cross-cutting nature of its crypto offerings. Engineering, humanities and law all offer courses in the subject. To prove a point, among the available courses is Blockchain: Future of Absolutely Everything taught by the Comparative Literature department of the College of Letters and Science.
UCLA is viewed as strong in cryptography, and is in a five-year partnership with tech firm NTT, to support cryptographic research. Additionally, there is a Law and Blockchain Association connected with the law school, which runs events and supports those students interested in blockchain get in touch with academics, entrepreneurs and attorneys.
Courses are offered at undergraduate and master's levels, including a Master of Science in Financial Technology.
Again, there is student activity in the space in the form of Blockchain at UCLA, which seeks to increase knowledge about blockchain through research, lectures and learning. The Crypto Club meanwhile focuses on cryptocurrency.
Heavy on research and industry tie ups at University of Southern California
The state's oldest private research university, the University of Southern California (USC), is also pursuing research throughout its faculties as well as partnerships with industry. Involved in developing technology and applications for the sector are USC's Viterbi School of Engineering, its Marshall School of Business, the Keck School of Medicine, and the Annenberg School for Communication and Journalism.
USC offers undergraduate and graduate courses, including general introductions for all students as well as the more technical for graduates in areas like computer science and engineering.
The university's student-led Trojan Blockchain Society (TBS) focuses on career development, community initiatives and education, while its Trojan Crypto club hosts regular workshops to educate the wider USC student community, as well as works with community developers.
Outlook for crypto in universities
West coast universities are doing things differently to their eastern counterparts, underscoring their different approaches. UC-Berkeley is known for its STEM focus and is leveraging this in its approach to crypto. Meanwhile the Ivy League universities are notably strong in liberal arts and humanities, and this underscores their attitude towards developing crypto course offerings and research.
To some degree, the schools serve different types of students, again belying their institutional set up – public versus private research. The public system attracts a more diverse student body, which will be interested in – and asking for – a wider range of options and different focuses when it comes to course offerings.
Overall, the Cal State system is helping contribute to the Los Angeles crypto ecosystem, nurturing talent and knowledge that can be tapped and developed locally. This is a trend that can only be expected to grow.