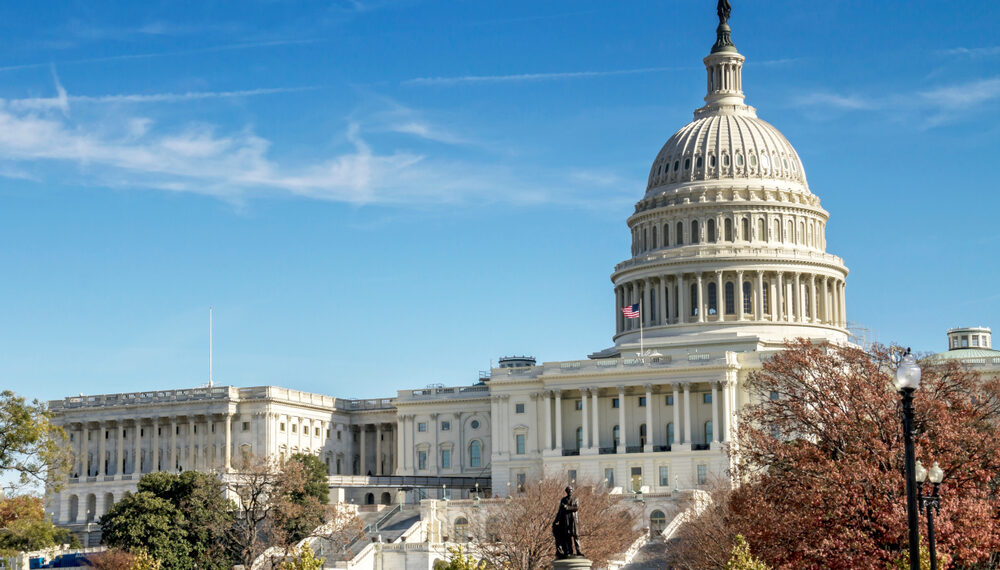 Summary:
A US government shutdown would stall forward progress on crypto policy and bills on the House floor.
Whether brief or extended, a shutdown can have consequences on many parts of society and the economy, as about 850,000 federal employees are furloughed, meaning they cannot work and don't receive pay.
The longest U.S. government shutdown was 35 days – between 2018 and 2019 following debates on the border wall.
Read more CCI news analysis.
Introduction
Every year, Congress endeavors to pass the annual appropriations funding that most federal agencies rely on to operate. In this process, the President must sign legislation to fund the government for the next fiscal year, which consists of 12 appropriations bills, one for each Appropriations subcommittee.
While Congress is not always successful in passing annual appropriations legislation before the end of the fiscal year, House and Senate leaders are typically able to reach a short-term agreement to keep the federal government funded. This time, however, Congress has not implemented any of the 12 bills for fiscal year (FY) 2024 nor have leaders in Congress been able to reach an agreement to temporarily fund the government. If an agreement is not reached by September 30th, a government shutdown will take effect, meaning that federal agencies must cease all non-essential functions until new funding legislation is signed into law.
Reasons for a potential government shutdown – How did we get here?
In June 2023, Congress passed the Fiscal Responsibility Act, which raised the federal debt ceiling and set spending limits for fiscal years 2024 and 2025. These spending limits represent an agreement between the Biden administration, Senate Democrats, and House Republican leadership. The aim was to establish an overall framework for appropriations bills, with Congress seeking to pass 12 bills in line with agreed-upon funding levels.
However, since the passage of the debt ceiling agreement in June, a number of House Republicans have stated publicly that they will oppose any appropriations bills that would result in FY2024 top-line spending levels that approach the $1.586 trillion limit agreed to in the Fiscal Responsibility Act. Instead, these members have called for new FY2024 funding to be made to match the $1.471 trillion spending levels of FY2022. Several of these members have also withheld their support from recent efforts to pass a short-term funding bill in the House intended to allow more time for negotiations.
Both the House and the Senate are now working separately towards passing their 12 respective appropriations bills on the floor of each chamber. However, with government funding set to expire in less than a week and an approximately $140 billion difference in the two chambers' proposed top-line funding amounts, it appears very unlikely that House and Senate leaders will be able successfully negotiate funding for all of FY2024 in the time remaining.
With the House and Senate passing different bills, the usual process involves a conference committee where both chambers work towards a compromise. This year, the process is expected to be highly contentious with a government shutdown already in place.
Historical context of US government shutdowns
The history of U.S. government shutdowns is characterized by political disagreements, primarily over budget allocations and policy issues. These shutdowns have varied in their duration and impact, but they all underscore the challenges of political negotiation and the importance of reaching consensus on budgetary and policy issues.
Here's a brief overview of major government shutdowns in the US:
1976: The first official government shutdown occurred due to a dispute over funding for the Public Works Employment Act. It lasted 10 days.
1977: There were three shutdowns this year, primarily over disagreements related to abortion funding in the Medicaid program. The shutdowns lasted 12, 8, and 8 days, respectively.
1978: A disagreement over defense and public works spending led to an 18-day shutdown.
1979: Another shutdown occurred over disagreements related to pay for the members of Congress and the civil service. It lasted 11 days.
1981: President Ronald Reagan vetoed a spending bill that led to a one-day shutdown.
1982: Two shutdowns occurred this year, both related to disagreements over social spending and the MX missile program. The shutdowns lasted 2 and 3 days, respectively.
1983: A disagreement over missile funding led to a 3-day shutdown.
1984: Two shutdowns occurred due to disputes over civil rights, water projects, and the Nicaragua Contras. They lasted 2 and 1 days, respectively.
1986: A disagreement over welfare and the Contras led to a one-day shutdown.
1987: A dispute over funding for the Contras led to a one-day shutdown.
1990: A budgetary disagreement under President George H.W. Bush led to a 3-day shutdown.
1995-1996: Two major shutdowns occurred during President Bill Clinton's tenure. The first, lasting 5 days, was due to disagreements over Medicare premiums and spending cuts. The second, which lasted 21 days, was due to disagreements over federal spending levels.
2013: A 16-day shutdown occurred due to disagreements over the Affordable Care Act (often referred to as Obamacare). Many Republicans sought to defund or delay the act, leading to an impasse.
2018: There were three brief shutdowns in 2018. The first, in January, lasted 3 days and was related to immigration issues, specifically the Deferred Action for Childhood Arrivals (DACA) program. The second, in February, lasted just a few hours. The third, in December, began due to disagreements over funding for a border wall and extended into 2019, making it the longest U.S. government shutdown in history at 35 days.
Potential impacts of a government shutdown
Goldman Sachs estimates that a shutdown would reduce economic growth by 0.2% every week it lasted. However, growth is expected to bounce back after the government reopens operations and key departments. The Congressional Budget Office estimated that the partial government shutdown that lasted previously, from 2018 – 2019, reduced real GDP by $11 billion over the fourth quarter of 2018 and the first quarter of 2019.
Consequently, the impact of a government shutdown extends to millions of federal employees and vulnerable communities, with a substantial economic toll and estimates indicating a reduction in growth.
While essential services related to public safety will continue, during a government shutdown, each federal agency develops a plan outlining which activities will cease until appropriations are restored:
Federal Employees: One of the most immediate impacts is on federal employees. Many are furloughed, meaning they're temporarily laid off without pay. While essential employees, such as those in law enforcement and the military, might still work, their paychecks can be delayed.
Public Services: A wide range of government services can come to a halt or operate at reduced capacity. This includes national parks, museums, and other tourist attractions, which may close their doors. Additionally, services like passport and visa processing can face significant delays, affecting travel plans for countless individuals.
Economic Implications: The broader economy isn't immune to the effects of a shutdown. Federal workers without paychecks might cut back on spending, leading to reduced revenues for local businesses, especially in areas with a high concentration of federal employees. If the shutdown is prolonged, it can dent consumer confidence and even lead to reduced economic growth. Financial markets, sensitive to uncertainties, might also experience volatility.
Research and Development: Many scientific projects and research initiatives funded by the government can be temporarily halted.

Health and Safety: Some health and safety inspections can be postponed or halted. For instance, routine food inspections by agencies like the FDA might be reduced. Similarly, environmental inspections and enforcement actions might be delayed.
Global Implications: On the international stage, a U.S. government shutdown can raise eyebrows. It can lead to concerns about the U.S.'s ability to uphold international commitments, from trade agreements to defense pacts. Delays in foreign aid or diplomatic initiatives can also strain international relations.

A government shutdown can also impact US defense – some 2 million military personnel and more than 2 million civilian workers across the nation, with an approximate 60% of federal workers stationed in the Defense, Veterans Affairs and Homeland Security departments.
Understanding these potential impacts underscores the importance of a functioning government and the wide-reaching consequences of a shutdown.
How can the shutdown be avoided or resolved?
Congress holds the responsibility of providing funding for the government. Public opinion and pressure can exert considerable influence on resolving a government shutdown. Politicians are accountable to the concerns of their constituents, as such, public sentiment can be a powerful force in pushing for a timely resolution to this crisis.
To avert a shutdown, Congress must pass all 12 appropriations bills, or a temporary measure known as a continuing resolution (CR), in both chambers and have them signed by the President before September 30. This occurs by either passing each appropriations bill individually, or bundling them together into one or more larger legislative packages.
Typically, Congress uses a CR to keep federal agencies and programs operating at current funding levels while budget discussions take place. Important national priorities, like aid for natural disaster victims, are often included in short-term bills.
Leaders in both the House and the Senate have discussed plans to advance a CR to try and avert a shutdown. However, given the divisions between the two chambers as well as among some members of the Republican Conference, reaching an agreement before the September 30 deadline remains a significant challenge.
Impact of a US government shutdown on crypto
Currently, numerous bills are awaiting a floor vote in the House. These include H.R.4763, the Financial Innovation and Technology for the 21st Century Act, H.R.4766, the Clarity for Payment Stablecoins Act, and H.R. 1747, the Blockchain Regulatory Certainty Act. If the government shuts down, forward progress on these bills will be stalled.
FIT21, also known as the market structure bill, is important because it sets out a frame for an ongoing conversation about regulation of digital assets in the United States. The bill would mark significant progress in terms of creating a framework for regulation that would support innovation while protecting consumers. The stablecoin bill is important because it sets clear parameters around stablecoins, something critical to the future of the entire digital asset ecosystem. CCI supports both of these bills.

Of course, in the aftermath of a shutdown, it is unclear what issues will rise to the top of the priority list in terms of gathering Congressional interest. Apart from funding the government, Congress faces a number of statutory deadlines which will require additional legislative action before the end of the year. These include reauthorization of the Federal Aviation Administration, National Flood Insurance Program, as well as major federal agriculture and nutrition programs.
The one thing we know for sure is that the policy world is not static; every week a new issue rises to the top of the list, and one of the biggest challenges crypto policy advocates have is getting people to focus on our issues given all that they have on their plate.
And as we get further into campaign season, the campaign trail will also pull attention away for those Members of Congress who are up for re-election in what is seen by many as one of the most critical elections in recent memory.
Would the SEC or CFTC be impacted by a government shutdown?

Agencies like the SEC and CFTC are funded through Congressional appropriations, and may have to reduce or suspend certain operations if a shutdown takes place. However, the Federal Reserve, Federal Deposit Insurance Corporations, OCC each fund themselves through fees collected from the firms they regulate and would not be directly impacted.