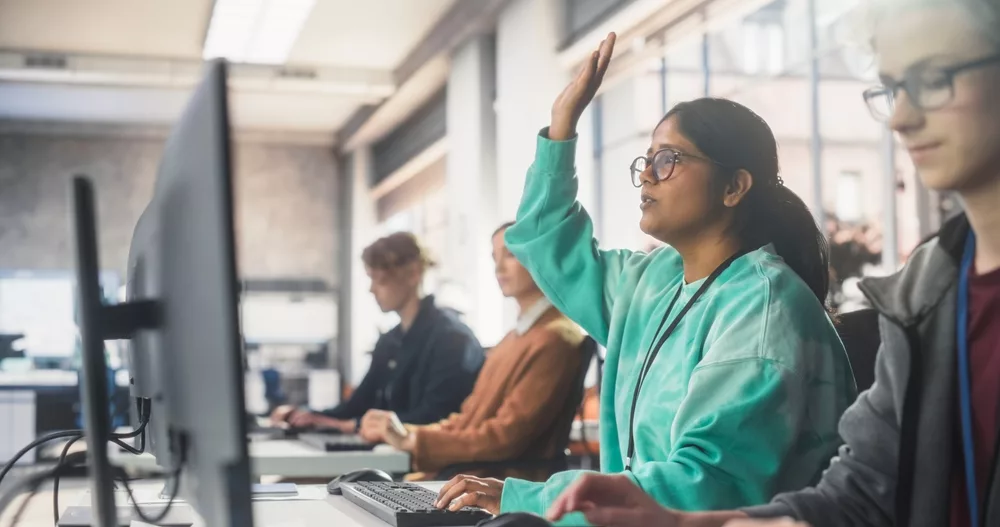 As part of its series looking at crypto in the education space, the CCI spoke to Helena Rong about how to design a crypto-related course, what type of students courses attract and what career skills and prospects courses provide.
Helena is currently enjoying a one-year fellowship called Technology and Public Purpose (TAPP) at Harvard Kennedy School's Belfer Center for Science and International Affairs. She's doing a PhD in Urban Planning at Columbia in its Graduate School of Architecture, Planning and Preservation (GSAPP).
Her focus is on providing tools for the fundamental redesign of governance and institutions, and she has been looking at blockchain, and with this, the intersection of digital technologies and urban governance, for the past 18 months. This reflects her wider interest in the idea of using collective intelligence in designing and governing the built environment.
As part of her fellowship, Helena has created and taught a course to master's students in the Harvard Graduate School of Design (GSD) called 'Technology, Trust and Governance', which calls on students to think conceptually and critically about technologies, such as Web3 technologies and AI, and the role they play in governance and enhancing institutional trust.
How did you decide what to include in your course?
There are so many avenues when it comes to designing a course on blockchain. It's no longer just about the technical aspects. These courses aren't just for students from the computer science or engineering schools, but for those studying humanities and policy. They are for students with different backgrounds, to help them understand the technology at a broad level. We want them to think about what the scenarios might be where we can apply blockchain, as well as the potential risks.
Are there any practical issues you had to consider when putting together your course?
There are pros and cons to it being interdisciplinary. What can happen is that we spend several classes learning the basics because students don't necessarily come from a starting position where they really understand the technical aspects of what you can and can't do.
That said, I think you need to start somewhere, and that more people from business schools, law, policy and social sciences should join the conversation because I think the technology stack is socio-technical. To get this right, it's not just about understanding how technology works, but really understanding design and policy innovations. Education plays a big role in bridging these divides.
Did demand dictate the type of course you created?
My course created a lot of interest. It was part of the Open Projects at the GSD, catered towards second-year Master of Design students from various domain backgrounds. The course examined the intersection of technology and governance more broadly, with blockchain and Web3 being one aspect of technology we looked at throughout the semester. In this course, we considered emerging technologies, such as blockchain and AI, as tools in our design palette.
From an institutional perspective, demand could sometimes dictate the types of course offerings. Some are basic (101-type introductory courses), others delve deeper, with students conducting research, creating projects, and sometimes making pitches. In general, there's a lot of interest, but anecdotally, since the Fall, interest in blockchain-related courses seems to have subsided a little, probably because of the problems the sector has been experiencing.
Courses are one thing, but there are also bigger research initiatives, planned for multiple years, with the schools putting up a lot of resources to make these happen.
There is long-term dedication to decentralized technologies in the education space, highlighted in the research initiatives that different schools are developing. Columbia has the IBM Center for Blockchain and Data Transparency, which is a whole initiative. There's the MIT Media Lab's Decentralized Society (DeSoc@MIT), which focuses on the emerging areas of Digital Currencies, Decentralized AI, and Computational Privacy and Security. Harvard's Edmond & Lily Safra Center for Ethics recently launched the GETTING-Plurality research network, led by Professor Danielle Allen, and is working with various impact partners, such as Microsoft, the Plurality Institute, and RadicalXChange. The network aims to advance the understanding of how to shape and guide technological deployment in support of democracy and collective intelligence, with Web3 technologies being one of the focus areas.
How much overlap is there between topics and is it difficult to narrow things down?
There are a lot of courses, but if it's not a technical course at the computer science or engineering school, then chances are, the offer is pretty interdisciplinary and introductory-level. Students often cross-register, so even if it's a law or business school, you could get a lot of people from other disciplines. This brings a lot of overlap in perspectives and exchanging ideas.
Why should a student study in the US and not elsewhere?
If you compare the study of something like blockchain in different contexts (for example, China and the US), the underlying goal, and therefore the outcome is going to be very different. I think that the type of critical thinking and questioning from a conceptual and high-level perspective is what humanities-focused institutions can offer.
That being said, even comparing schools like Harvard and MIT will show differences. Harvard is more focused on ethical boards and policy, whereas MIT is deep into the actual technology stack. So, even between US institutions, and reflecting their own pedagogical strengths, the focus will be different.
What can top schools offer that newer, often technology-focused institutions can't?
Top US schools with strong social sciences departments offer more perspectives drawn from both the humanities and social sciences. I think that's important because there is a whole range of skills needed from socio-technical to imaginary perspectives. That conversation is important because it means we're not taking anything for granted.
What does your typical student look like?
The students I've encountered really want to do things; turn ideas into action and test things out in the real world. The course I offered attracted students who are interested in the applied side of things, offering concrete solutions to an identified problem.
I do think there's a kind of passion for solving existing problems, just because we have so many of them. People want to take what they've learned and really think about practical solutions.
What skills can – and should – courses offer students that are currently lacking in the crypto sector?
A lot of people who are interested in these courses don't have the requisite technical skills, and there's only so much that course instructors can do. It would be good to have students with a solid grasp of technology, but on the other hand, when we're talking about solutions or meaningful ways to address a problem, what is really important is the research method. Whether it's user research, going out into the field, or making sure that people will accept this technology – a kind of collaborative design with your end users.
I think this kind of design thinking is something that is currently lacking in many different disciplines. No matter where you're coming from, whether it's a business venture class or the design course I've been offering, it would be useful to have students have this type of training if they want to make their contribution meaningful.
Have problems in the crypto sector affected interest in courses?
People have had doubts and there is some scepticism, but the first step, from my perspective, is to explain the technology and its applications. Most students I encounter want to learn more. If they know a course being offered at school, they tend to see that there is some merit to it. This, and the research opportunities available, are helping to clear away some of the preconceived notions that see all Web3 and crypto-related technologies as negative.
Is the career professional demand for courses unusual?
There are students with a lot of work experience who are returning to get their master's degree, and in terms of the range of professional experience, it's wide.
A lot of students who take these classes, don't necessarily go into the space. People are interested in crypto, blockchain, and Web3, and want to learn more, demystify what the sector is about, but many students go into more traditional sectors.
Is there a career in crypto for everyone?
I do think there are career opportunities for everyone. In every sector there are product managers or design education roles, except you might just be working on a crypto project. A lot of these skills are transferable because even people in crypto are building products. And because crypto is so interdisciplinary, students with a law or an economics background can specialize in it. So, I do think almost every career has an avenue to or a connection with crypto, some more niche than others.